Biofreeze was first introduced to the world by a medical professional who was searching for a way to help his grandmother manage her arthritis pain.
How Does Biofreeze Work?
Whether its an overworked muscle, a chronically achy back or the enduring discomfort of arthritis, pain affects millions of people every day. Biofreeze is a fast-acting, topical analgesic -which breaks the pain cycle using the cooling effect of menthol, a natural pain reliever to soothe minor muscle and joint pain.
Biofreeze Vs. Ice
Rapidly Penetrates the skin

Longer-lasting in 9 out of 10 patients

Promotes continued activity

Increased range of motion

No stiffness, skin irritation, temporary pain or numbness

Substantially more comfortable and convenient
Over 3 hour protection from:
Sore muscles & sprains

Back, shoulder & neck pain

Muscular strains

Sports injuries
Give Pain the Cold Shoulder Today with the #1 Topical Pain Relieving Gel*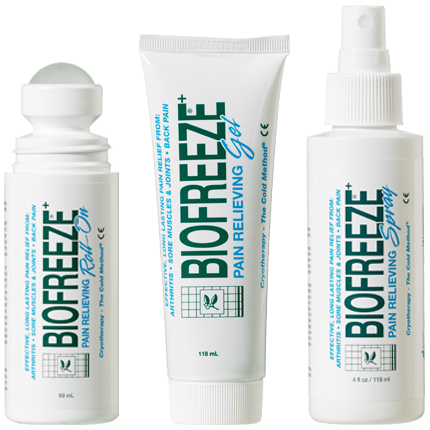 One effective pain reliever;
three different formats.
Tube
Gel-dispensing tube perfect for hands-on massage application, particularly for larger muscles and joints.
Spray
The Biofreeze Cryospray permits easy, effective application to those hard-to-reach body areas, such as the back.
Roll-on
The massaging action of the roller ball can be used to stimulate trigger points in the affected area.